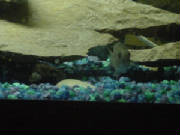 This is my main female S. Freyeri. As you can see they lack the lustorous blue color of the males although they do have just a shimmer of blue to their scales. The photos on all of my fish just do not do them justice. To date she has had two batches of fry which have been raised successfully.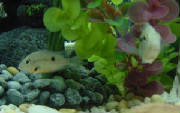 These fish are called Firemouth. I have two, both are males. They are from South America and are called firemouth because of the red coloring on the underside. It is more prominent as the fish get older. They are a beautiful fish with long flowing finage.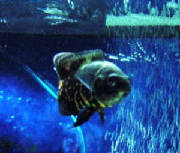 This is BA. He is an Oscar/wet dog. He tries to eat anything and everything. He belongs to my husband but at feeding time he belongs to anyone with the shrimp in hand! He is very spoiled as he only likes beefheart, dried shrimp, and baby brine shrimp. He will NOT eat pellets or flakes, krill or anything else out there.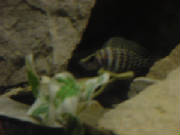 In the photo above you will see the new calvus I was mentioning earlier. She is a wild caught Calvus and comes from Lake Tanganyekia in Africa. She is a cichlid like all the rest of my fish. The Calvus grow at an extremely slow rate which in turn can make them out to be a very expensive fish! They are my weakness and I plan on adding another black male and I want to purchase some whites too.